Some nations can use Thugs to assist their expansion. Thugs are mages who are capable of killing smaller armies by themselves - or in this case independents. A select few thugs can expand with a heavy bless, while others will need a combination of research and cheap gear. In many cases a properly set up thug can clear indie provinces that your regular army would struggle with. When used in this way thugs can be a nice supplement to your expansion.
Rule of thumb: If you want to use thugs for expansion they need to be online by turn 6 at the latest to stay relevant.
In order to be useful in expansion your thug needs to be able to do two things:
Survive the independents in a province.

Be able to rout them.
For survival you need to make sure that your thug has access to enough layers of defence. Good defensive tools include high protection, high defence skill, Awe, Glamour, etc. The more defence you can stack on a thug the better its chance of survival.
For routing the independents your thug will either need to kill the independents before they chew through your thug's defensive layers, disable them with Heat or Chill auras and then finish them off, or make them rout with a Fear aura.
Construction 2, Alteration 3+,
Awake research pretender
Enchanted Pike, Burning Pearl,
body armor like Blacksteel Plate
Ironskin, Mistform, (Temper Flesh/Personal Luck/Bless) Attack Rear
High prot with Ironskin, repel with high attack, Mistform and Glamour to negate hits. Can handle most indies but not Barbarians or Wolf Tribe
Commander Sniping
HPmunchcraft has made this video demonstrating how to use commander sniping with Caelum
One advanced technique that can improve your expansion is to try to make the independents split up in a way that isolates the indie commanders and opens up for a quick kill. After all, the only thing you really need to kill in a province is the commanders.
One way of accomplishing this is to use a bait squad of archers on fire and keep distance placed to the front in the top or bottom. Opposite that in the back corner you place the squad that is supposed to kill the commander. Sometimes this will cause a big portion of the enemy forces to chase your archers leaving the commanders isolated for a flank kill.
Example: Expansion with Jomon
This is a guide to expansion with Jomon written by Rovsea.
After trying quite a bit of stuff, I have come to the conclusion that recruiting Samurai Cavalry is probably the best way to expand using Jomon's starting army. Ashigaru spam seems like it might work: their prot is not great but it is ok; their stats for a militia unit are actually quite good, and at 5 recruitment points you are probably not going to be eventually recruitment point locked like you are for a lot of their other choices. I have also tested normal samurai. Unfortunately, both of those are just as vulnerable as Samurai Cavalry to things like archers, javelins, and crossbows, except they also die even faster in melee, so they attrition out a bit too rapidly for me to endorse them.
For expanding into non-heavy cavalry normal marching indie provinces, I have a very specific setup that I would advocate for. This is marching into the third province I am expanding into, after successfully killing two others. If you will notice I have only lost a few dudes so far.
Positioning
The positioning is arguably the most important part because you want your cavalry and your infantry to be engaging the enemy as close to simultaneously as possible to reduce casualties. The scales you take are also important, as samurai cavalry are heavily scale dependent; if you take less productivity than I did here, say anything under prod 2, then you are probably only going to be able to afford three samurai cavalry, which should still work ok, but you will slow down faster eventually; if you dump productivity entirely, then you are probably not playing Jomon right, or have some other, non-troop based expansion strategy presumably.
Anyways, to get a more precise idea of where to place the units, this is how I usually would position them. The cavalry are all the way in the back and cornered so that it is not easy to get around them to the general. The infantry are all blobbed together for a couple of reasons. Having the archers on fire is probably a mistake, as ashigaru are liable to rout all by themselves in such small numbers. Samurai archers are decent in melee, if pricey for that role (but you did not have to buy the starting army), and it preserves your morale since you only have a 60 leadership starting commander. You want your infantry positioned right where they are, a step forward can be OK but it is possible you will block some of your cavalry coming in on the charge. You want the infantry a half step behind to prevent this, but still able to enter combat on the same turn if possible. It should look like this, or very similar. You can see all the cavalry get their attacks off first, which means they were slightly before the infantry. The big impact of the lance charge can rout the enemy quickly.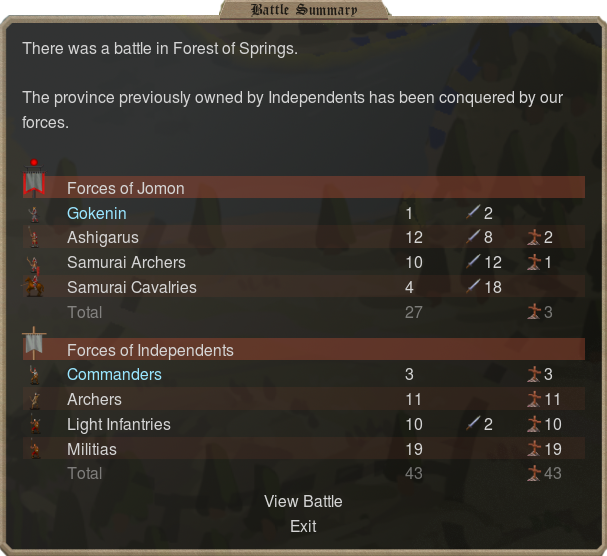 And the end result is that while we do take some light casualties, it is a successful expansion. The casualties in the previous two combats were just four dudes as well, so after three expansions as Jomon you still have a viable expanding army. You do want to avoid difficult provinces as you would with many starting armies, namely heavy cavalry or large Barbarian provinces.
My starting army in the test game I am running actually expanded just fine into six different indie provinces before joining up with a secondary expansion party and continuing to expand. The above shows that even after attritioning a little bit, the starting army can still expand - even into provinces much larger in numbers than itself. As long as you have around ten infantry to soak up damage and cavalry to lance the first indie squad, you have a decent shot.
The starting army is still going strong.
Heavy cavalry
It is possible to expand into heavy cavalry, but it is a lot trickier. As you can see this time the samurai cavalry took attrition as well, and you have to be careful about lining up your cavalry with the indie cavalry, because ashigaru will melt if they touch a lance charge. I would advise pinging anything that looks like a large heavy cavalry province with a scout if possible, and making sure that if you cannot scout it you have a good number of cavalry positioned in front of your infantry to meet the enemy lances head on.
If you know where the enemy cavalry will be, you can use the same positioning as before, with the samurai cavalry lined up with the indie heavy cav, this time with both squads on attack closest instead of hold and attack (you can also do attack cavalry to make sure they target properly).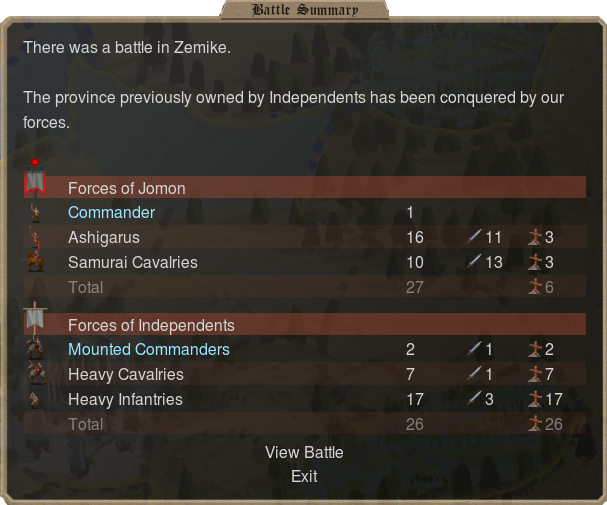 A succesful expansion into Heavy Cavalry
This is what happens when you do not line up properly, and there is a lot of enemy heavy cavalry
Conclusion
Something to keep in mind, expansion is going to be pretty different for Jomon depending on if they take an awake expander or not; with the awake expander it will, obviously, be a lot better. Expanders also let you take hard provinces with the pretender while you take less risky provinces with normal troops. Overall, I would still recommend taking an expander unless your plan is to just go for full scales or something similar, at which point I am not really certain which is better. Jomon really likes getting access to Ryujin.
As it is, with no expander I am looking at just under 20 provinces at turn 12, which while not great, is still decent. You are going to have enough gold to put up multiple forts if you take scales, and if you took an awake expander you are looking at even better expansion numbers so your extra gold will come from the extra land, and you will still be able to put up a few extra forts.