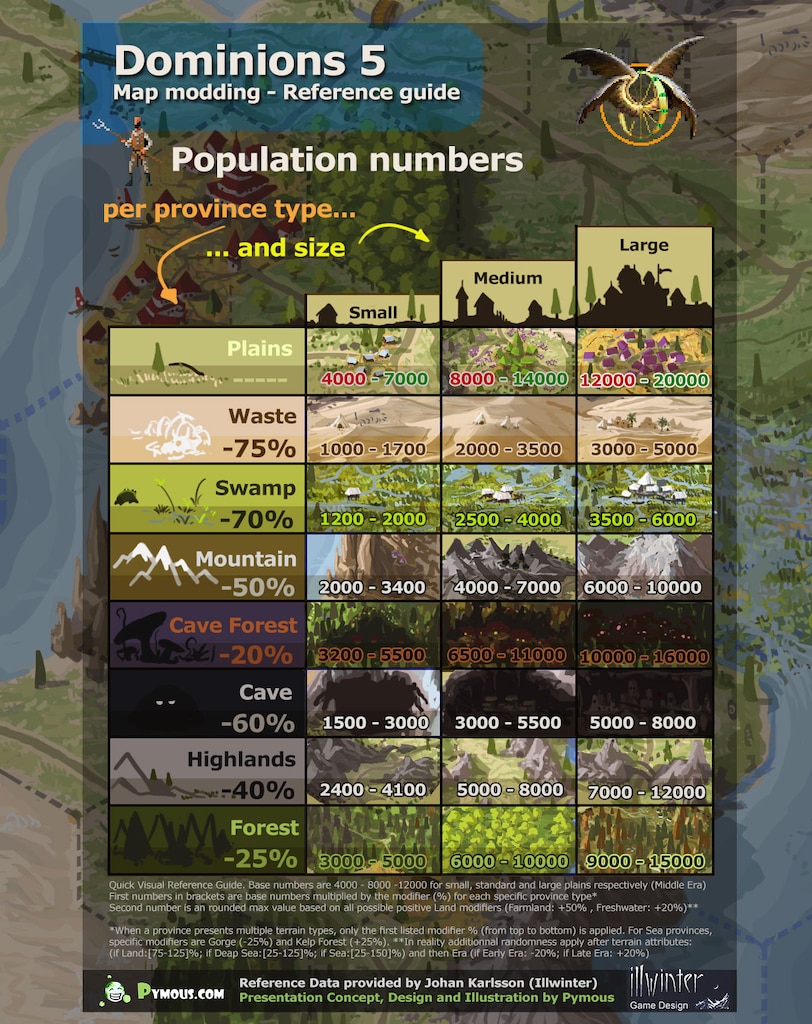 Population determines income, and is affected by many factors: Growth/Death scales, patrolling, dominion, pillaging, and random events. The population in a province sets the base income from that province:
We should list all factors that modify population number in a province and the maths behind
The population has an effect on:
Income

Recruitment points
Default capital populations at game start are randomised between 10 * (2950 + closed d100), so between 29500 and 30500.
Income
A province contributes its income rating to the owner's treasury every turn. Income accumulates in the treasury. The number shown is after all modifications. Income is determined by multiple factors, including population, dominion scales, fortress administration, and unrest. The basic formula is
If the province has unrest, this number is Final
If a province cannot trace an unbroken line of friendly provinces back to a friendly fort, it does not produce income that turn. Taxation requires communication.
Note: Speaking of taxation, note that while the process of income collection is referred to as taxation here, there is no explicit "taxation" mechanism or button in the game. This is a change from previous Dominions games, where you could set the level of taxation in each individual province. This is no longer the case. Taxation back then was not so easy.
Full income formula FLOOR(FLOOR(FLOOR(FLOOR(FLOOR(FLOOR(FLOOR(population/100+sites_events)(1+admin/200))(1+order_mod))(1+growth_mod))(1+prod_mod))(1+heat_mod))/(1+0.02unrest))
Resources
The resource value of a province, representing raw materials needed to make weapons and armor. Resources are reduced by unrest, like income. Resources are collected by forts from neighboring provinces. A province only produces half of its potential resources for use in that province unless it contains a fort. The number shown is the number actually being produced, not the potential.
Note that in the capsule screen, resources are displayed as hammers. As a province's resources are allocated to recruitment, the hammers in the capsule screen are progressively greyed out.
Resource availability in a province is reduced by unrest according to the formula
Thus, an unrest level of 100 means a province produces only one half of its normal resources. Furthermore, no units may be recruited in a province with an unrest level of 100 or greater.
Building a fort in a province greatly increases the number of resources available there. A fort draws resources from adjacent owned provinces according to it's administration rating. If multiple forts draw from a single province first the relative allocation for the province itself is reduced to feed all forts, if they draw >100% the contribution to each is reduced proportionally to not make the province "magically" produce more resources.
</WRAP box round> Examples:
Say a province produces 10 resources. That means its resource potential is 20 resources. A fort in an adjacent province with administration rating draws 30% of those to itself. 50% + 30% is still below 100% so no shortage here, that means the province stil produces 10 resources and the fort gets a bonus of 6 resources.

2 forts with 40% Admin are adjacent to a province which (without the forts) would produce 100 resources, so has 200 resource potential. 40%(fort) + 40%(fort) + 50%(province itself) = 130%, so the allocation of resources to the province itself get's reduced to 20%. That means the province produces 40 resources and both forts get an additional 80 resurces.